Welcome to the Leading virtual teams guide!
Introducing the Guide to Virtual Teams, an invaluable resource that complements the Dynamic Material Bank, TOO4TO Training Curriculum, and e-learning module and materials. This comprehensive guide is readily available for open access, providing an extensive wealth of knowledge.
Click the image below or the following link to access the Guide to Virtual Teams: https://www.thinglink.com/scenariocard/1521767923624968193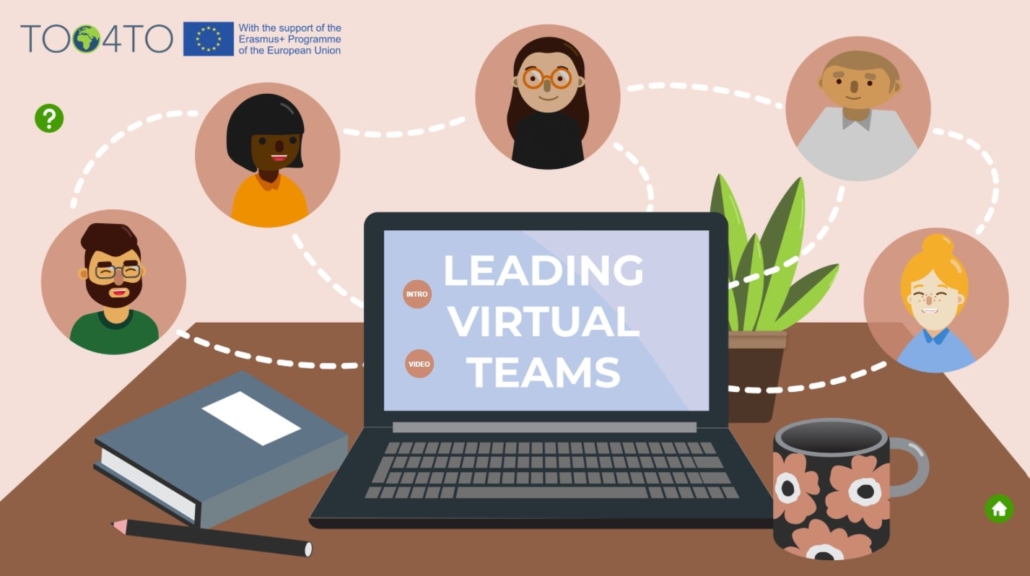 FOR WHOM IS THE RESULT INTENDED?
If you're a student, teacher, or business representative working in virtual or hybrid teams, this guide is created for you to enhance your virtual team-leading skills.
Teachers and students can integrate this guide into their professional studies at HEIs. It is specially planned to support students attending and teachers running the TOO4TO e-learning course.
For Business representatives who work in virtual/hybrid teams or lead /hybrid teams this guide stands as a remarkable asset. The "Leading Virtual Teams"-guide is planned to support you every step of the way in leading your team.
In addition, the TOO4TO project offers an invaluable opportunity for personal and professional growth for all individuals eager to explore the realm of sustainability and virtual leadership.
WHAT USE IS THE RESULT FOR?
The TOO4TO project seeks to equip individuals with the necessary tools and knowledge to navigate the complexities of virtual team dynamics effectively. It recognizes the importance of addressing both the technical aspects of virtual collaboration and the broader aspects of sustainable leadership.
This guide fosters the development of learners' sustainable leadership skills specifically tailored for multicultural and multidisciplinary virtual or hybrid teams. These skills encompass the domains of teamwork, communication, problem-solving, and adaptability to novel situations.
The guide takes a storytelling approach through the different stages of team development, including an introduction to the following elements:
Theories and assignments
Critical success factors for virtual teams
Common problems and possibilities
Practical tools
ADDRESSING THE SDGs
The present-day sustainability challenges transcend national boundaries and professional domains, demanding a collaborative and interdisciplinary approach. Many sustainability initiatives require the active engagement of international and multidisciplinary teams. Furthermore, the evolving work landscape has witnessed a paradigm shift in leadership dynamics, with virtual and intricate work environments becoming the norm across various organizations.
SDG 4: Quality Education – Virtual leadership promotes educational opportunities by enabling remote learning and collaboration, expanding access to quality education globally.
SDG 5: Gender Equality – Virtual leadership can contribute to achieving gender equality by providing flexible work arrangements and empowering women to participate in leadership roles irrespective of physical constraints.
SDG 8: Decent Work and Economic Growth – Virtual leadership supports the creation of decent work opportunities by facilitating remote work, enhancing job flexibility, and promoting economic growth through efficient virtual collaborations.
SDG 9: Industry, Innovation, and Infrastructure – Virtual leadership relies heavily on digital infrastructure and fosters innovation in communication technologies, contributing to sustainable and inclusive industrial development.
SDG 10: Reduced Inequalities – Virtual leadership can help bridge geographical and socio-economic gaps, offering opportunities for individuals in marginalized communities and reducing inequalities in access to leadership roles.
SDG 17: Partnerships for the Goals – Virtual leadership facilitates global partnerships and collaboration by transcending geographical boundaries, enabling diverse stakeholders to work together towards achieving sustainable development objectives
Read more: Sustainable leadership in virtual project teams – Practices of building trust
Prepare yourself to elevate your knowledge and excel within the realm of sustainable and virtual teamwork!