One part of Corporate social responsibility (CSR) is employee wellbeing that can be supported by leadership focusing on creating a motivated and open work culture at today´s workplaces. However, during the last two three years leadership has been challenged by the Covid 19 and its accompanying transformation of the work environment. Today, almost every organization operates in a virtual and in even more complex environments. The TOO4TO project has addressed this challenge and contributes to the goal of better and more sustainable virtual leadership by integrating the development of virtual team leadership and sustainable leadership skills in the e-learning course it will produce.
Virtual team leadership
Employees often work in small teams and the success of virtual teams depends among other things on the size and structure of the virtual team, as well as team composition meaning individual differences and team leadership. Virtual team leadership is not so different from the face-to-face leadership; however, certain practices are emphasized:
solving conflicts,
supporting open and regular communication,
leading diversity,
being present to avoid social isolation,
giving feedback to maintain intrinsic motivation and
allowing autonomy to enable self-managing teams.
building trust to ensure knowledge sharing and creation
Working in virtual settings increases also the importance of sustainable leadership. Especially, in diverse virtual teams where the team members speak different languages, are of different ages and have different experiences, the team leader must ensure the wellbeing of the team members by leading in a sustainable way in the pursuit of trust.
How do we lead in a sustainable way in virtual settings?
The Sustainable Leadership Pyramid created by Avery and Bergsteiner (2011) (SLP) proposes a bundle of 23 integrated and mutually supportive leadership practices combined to enhancing performance outcomes by multiple measures (see fig.1). Key performance drivers refer to organizational behaviors, in other words – staff engagement, quality and innovation.
On the higher-level practices the focus is on the employees, and we can find corresponding practices that were mentioned being the most important in leading virtual teams. One of the most crucial practices is building trust. To be more precise, building both cognitive and affective trust, that correlates positively with the success of a virtual team.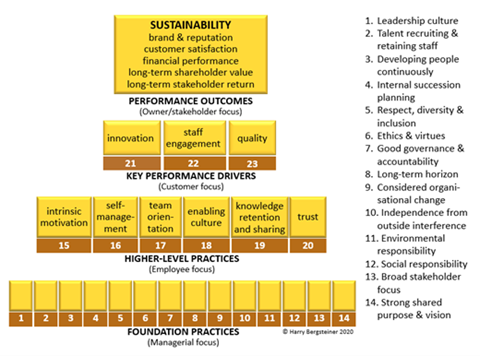 It is said that trust is more difficult to establish and maintain in virtual teams (I.e., Sarker & al. 2011; Morrison-Smith & Ruiz 2020) and lack of trust is most pronounced during the initial stages of the virtual teamwork. Facilitating social exchanges early in the life of a project and creating opportunities also for informal interactions between the team members, can improve trust. In other words, the leader's first responsibility is to build an employment relationship where team members are allowed to work freely and share their own expertise and knowledge with others. In this way, they feel a sense of belonging and make their best contribution to the success of the team. All these practices lead to increased trust between the team members and psychologically safe working environment.
In addition, to build trust in an international virtual team in the best possible way, the virtual team leader should strive to create an open discussion by choosing the right kind of technological tools and taking cultural differences into account. Also, the members of the virtual team must be aware of the communication rules and etiquette and of the norms and values of different cultures. Moreover, as mentioned earlier, the various stages of team development should be considered, most effort is needed at the initial stages of team development. Not only open communication and technology but also demonstrating appreciation and respect for the team members is beneficial. Unfortunately, trust is often seen as a sensitive resource because it is demanding and time-consuming to build, but it can be broken down easily and quickly.
Ways to develop sustainability and sustainable leadership skills virtually
The TOO4TO project online course offers an opportunity to conduct group assignments in virtual teams across national borders. The intention is to elevate the learners' sustainable leadership skills, such as building trust, as well as adaptability to new situations in conjunction with studying sustainability, which as an approach, is unique to all project partners.
The project has also published a "How to lead virtual teams" guide to increase competence and skills in the area of sustainable leadership and multicultural virtual teamwork. The guide is available on the https://too4to.eu/ website.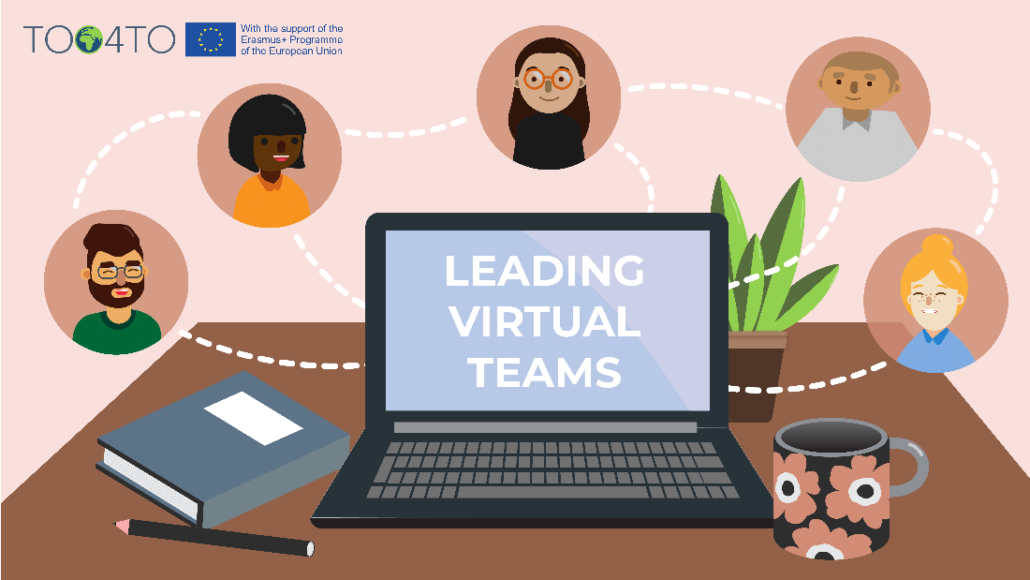 While changes in the work environment are seen as challenges, they are also great opportunities to re-think ways of working and to develop as a sustainable virtual team leader. Despite the work environment, it is still about the welfare of the team members.
Written by Mervi Varhelahti, Marjatta Rännäli and Milka Leppäkoski, Turku University of Applied Sciences
References:
Avery, G.C. & Bergsteiner, H. (2011), "Sustainable leadership practices for enhancing business resilience and performance", Strategy & Leadership, Vol. 39 No. 3, pp. 5-15. https://doi.org/10.1108/10878571111128766
Bergsteiner, H. (2022) Institute for Sustainable Leadership. The Sustainable Leadership Pyramid (SLP). Accessed 16.2.2022 https://instituteforsustainableleadership.com/research/tools/sl-pyramid/#
Leppäkoski, M. (2021) The role of leadership in building trust in multilingual virtual teams. Turku University of applied sciences. Accessed 16.2.2022 https://urn.fi/URN:NBN:fi:amk-2021090917629
Morrison-Smith, S. & Ruiz, J. (2020). Challenges and barriers in virtual teams: a literature review. SN Applied Sciences, 2(6), 1-33.
Suriyankietkaew, S. & Avery, G. (2016). Sustainable leadership practices driving financial performance: Empirical evidence from Thai SMEs. Sustainability, 8(4), 327.
https://too4to.eu/wp-content/uploads/2022/09/logo2022-300x138.png
0
0
Too4to
https://too4to.eu/wp-content/uploads/2022/09/logo2022-300x138.png
Too4to
2022-04-20 16:41:24
2022-05-09 09:15:28
Sustainable leadership in virtual project teams – Practices of building trust