The world is currently facing environmental degradation and consequently negative repercussions on human well-being. This situation can be mitigated if modern economies and societies are willing to take the finite resources of the planet into consideration and start moving towards an alternative model that can lessen the risk of resource scarcity and respond to climate change challenges, as assured by the Circular Economy (CE) model.
The circular economy "is a model of production and consumption, which involves sharing, leasing, reusing, repairing, refurbishing and recycling existing materials and products as long as possible. In this way, the life cycle of products is extended." (European Parliament, 2015). The EU currently places the transition towards the CE model on top of its agenda in order to reduce the 2.5 billion tons of waste it generates annually. (European Parliament, 2015).
The CE measures, such as waste prevention, eco-design and re-use, are expected not only to reduce the total annual greenhouse gas emissions, decrease pressure on the environment, improve the security of the supply of raw materials, increase competitiveness, stimulate innovation; but also, it is expected to save money for the EU companies, boost economic growth as well as add  0.5%  growth rate to gross domestic product (GDP) and create more than 700,000 jobs in the EU alone by 2030 (EU Parliament, 2020).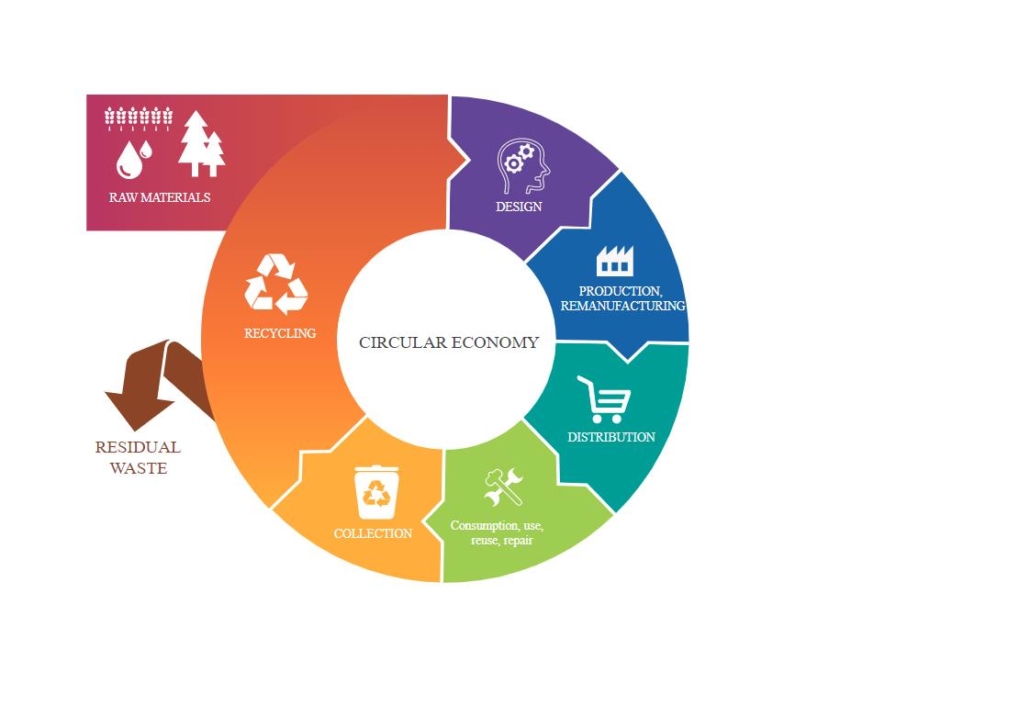 That being said, the European Commission adopted the new circular economy action plan (CEAP) in March 2020. This action plan is one of the foundational elements of the European Green Deal, which aims to attain the EU's 2050 climate neutrality target and halt biodiversity loss (European Commission, 2021).
Recognizing this, several industries and organizations embarked on more sustainable practices within the new CE framework. However, the businesses and technological innovations alone are not sufficient to achieve a complete transformation to CE. Citizens awareness is crucial in that regard, given that some of the obstacles facing this transformation are associated with attitudes such as perception of sustainability and risk aversion (Ritzén and Sandström, 2017) and cultures, for example, the lack of consumer interest and awareness. Citizens perceive themselves unaccountable for that transition and believe it is only governments and businesses responsibility (Kirchher et al., 2018). Therefore, a paradigm shift cross-cutting the individual behaviors reaching to the collective societal adaption of the CE principles through a bottom-up approach is the viable option to internalize CE principles. This can only be accomplished by education, to equip the people to become themselves the agents of the evolution towards CE (EU Commission, 2020).
The EU-funded TOO4TO project, hence, contributes to this goal by embedding the desired knowledge about circularity and sustainable economy in its modules. The course entails the necessary information about the circular economy, economics, sustainable production concepts and the concept of planetary boundaries. Students will get familiar also with the influence of public policy on the transition process to CE and the techniques of evaluating the business actions in terms of sustainability.
Practically as observed by Rodriguez and Marcote (2020), including circular economy and sustainability into the educational modules of the students altered their perception about their role and contribution to the CE transition and raised awareness with regards to the change in daily habits. As stated by Rodriguez and Marcote (2020: 1361)
"Students have sought out, developed, and provided solutions that have improved their impact on campus (water and energy saving, longer use of devices, less waste and more recycling). This critical view of their consumption is necessary to make the transition to the CE. Students can understand how their purchasing decisions have direct and serious consequences on the planet. They also recognized their inconsistency when shopping without need, just for fashion. The transition to more sustainable consumption patterns and levels will require reinforcing new habits through education".
Written by Ashrakat Fouda, Global Impact Grid
References:
https://ec.europa.eu/environment/strategy/circular-economy-action-plan_en
https://s3-eu-west-1.amazonaws.com/europarl/circular_economy/circular_economy_en.svg
https://www.europarl.europa.eu/doceo/document/ENVI-PR-652387_EN.html?redirect
https://epale.ec.europa.eu/en/blog/transition-circular-economy-role-education-youth-higher-education
Ritzén, S. and Sandström, G.Ö. (2017), "Barriers to the circular economy – integration of perspectives and domains", Procedia Cirp, Vol. 64, pp. 7-12.
Kirchher, J., Piscicelli, L., Bour, R., Kostense-Smit, E., Muller, J., Hublbrechtse-Trujens, A. and Hekkert, M. (2018), "Barriers to the circular economy: evidence from the European union (EU)", Ecological Economics, Vol. 150, pp. 264-227.
Rodrigues, A., Marcote, P. (2020), "Circular economy, sustainability and teacher training in a higher education institution". International Journal of Sustainability in Higher Education, Vol. 21 No. 7, pp. 1351-1366. Retrieved from: https://www.emerald.com/insight/content/doi/10.1108/IJSHE-02-2020-0049/full/pdf?casa_token=0DPVaO9GfywAAAAA:RNd9KN4b72-BJMC_Z1wkZx1oFyGT__8hwsK_-uLnIt_tHqU1zdPydrJuBk76kQI6IKevjgsKyZ89Yg8mYUe3mYjvh0Je_MONPM-R8KxL6MgfSSHtng
https://too4to.eu/wp-content/uploads/2022/09/logo2022-300x138.png
0
0
Too4to
https://too4to.eu/wp-content/uploads/2022/09/logo2022-300x138.png
Too4to
2022-01-10 16:36:12
2022-01-10 16:36:12
Circular Economy: A Way to Reach Sustainable Development