Engage your stakeholders in dialogue
Corporate Social Responsibility (CSR) is not all about charitable activities and events. CSR is not only that businesses take into account the economic, social and environmental impacts of their operations, but also about taking the responsibility. Also, about taking the responsibility in developing the society. This happens by envisioning future plans for socio-economic justice and being conscious about companies' responsibility for the welfare of society around them.
CSR manifests in communication with stakeholders. CSR activities that are effectively communicated to stakeholders are likely to have good returns on investments and increase companies' social legitimacy and reputation.
Social media has become a standard communication tool for companies to inform about their socially responsible activities. Social media has allowed organizations to communicate in entirely new ways through dialogue type of communication utilizing value- and performance-driven motives. However, it is stated that social networking platforms are most utilized in traditional one-way company-to-consumer communication. Unfortunately, this pattern still predominates in the social and digital era where interactivity and engagement are key. It is true that with a monologue type of communication one can campaign participation and spread e-WOM, electronic Word of Mouth. However, participating in dialogues in social media can reduce stakeholders' scepticism towards the company's CSR activities and lead to active stakeholder engagement. Moreover, through discussions and listening, companies can hold active dialogues and identify the sentiment of the discussions. This is relevant because emotional messages tend to be diffused more widely than neutral ones. Sharing emotional content is an intrinsic part of social media behaviour. In addition, emotions are used for promoting dialogue and engagement. Therefore, emotions are crucial elements for achieving stakeholder acceptance, commitment, and participation regarding CSR issues.
#CSR and #corporatesocialresponsibility in social media
We used hashtag and sentiment analysis to identify the main topics and their sentiment in social media discussions (i.e., Twitter or Instagram) related to corporate social responsibility. We chose hashtags #CSR and #corporatesocialresponsibility. We used a free version of social searcher and the data was limited to timeline 1.9 – 14.9.2021. Only social media mentions in English were included and inadequate data was removed.
Table 1 shows an overview of the social media posts related to corporate social responsibility during the two first weeks in September.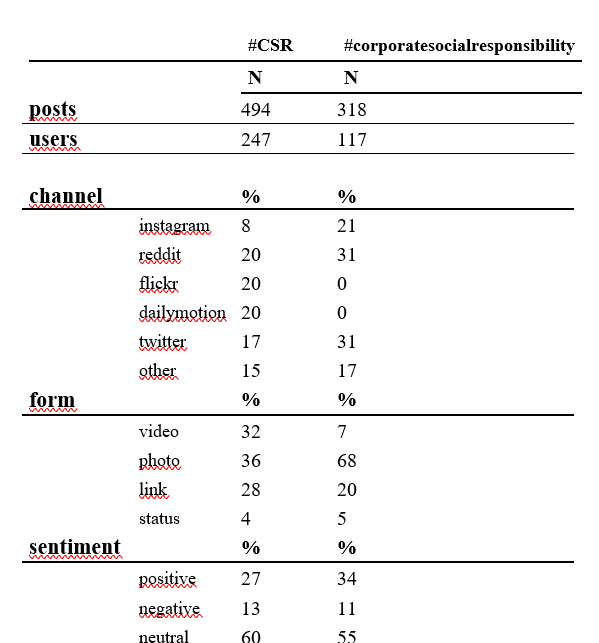 Table 1 shows that #CSR is used more often than # corporatesocialresponsibility and it has also more users. Analysis of both hashtags showed that Twitter and Reddit are popular channels. Differences in the chosen channels are found, for example, daily motion is actively used for #CSR but not at all for #corporatesocialresponsibility. Surprisingly, channels like YouTube and Facebook had under 25 posts during the given timeframe.
The form of communication is mainly photographs. Based on the popularity of the posts (e.g. likes, shares) of both hashtags, the posts mainly include videos and photos. Video content is mainly webinars or recorded discussions with experts and company managers. Photos instead are related to campaigns and events and posted as announcements (Figure 1). However, the popularity of the posts reveals that engagement is not at a high level as a whole, because the amount of likes and shares is quite low. This may be due to the short two-week timeframe used. Some of the posts have been published while the analyses were being made, and so the followers have not had the time to react to the posts.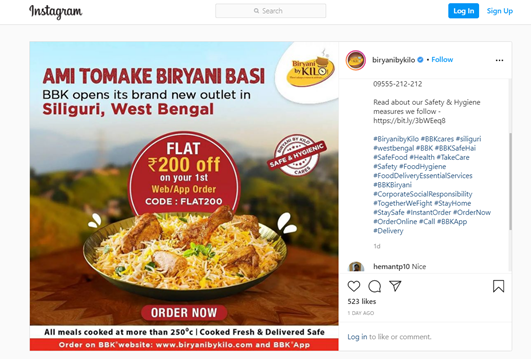 According to the sentiment analysis, the tone in social media posts is mainly neutral or positive. Related to #CSR Twitter and Instagram posts were most positive and Flickr and Reddit most negative. The same results concern #corporatesocialresponsibility.
It was found out that Reddit, Flickr, and Dailymotion are the most active channels based on the popularity count of #CSR when focusing on the social side of communication, dialogue, and interaction. However, Flickr and Instagram are the most active channels for #corporatesocialresponsibility. It should be mentioned that behind most engaging posts we found one organization, Trinity Care Foundation.
In addition, we found out that the most active days for communicating #CSR was Wednesday (38%) and for #corporatesocialresponsibility Tuesday (26%). Sundays were also active days for social media communication concerning both hashtags.
Themes were analysed using word clouds and analysis of words related to the posts. The themes related to discussions can be seen in Fig. 2. The first cloud represents the analysis of #CSR and the second cloud #corporatesocialresponsibility.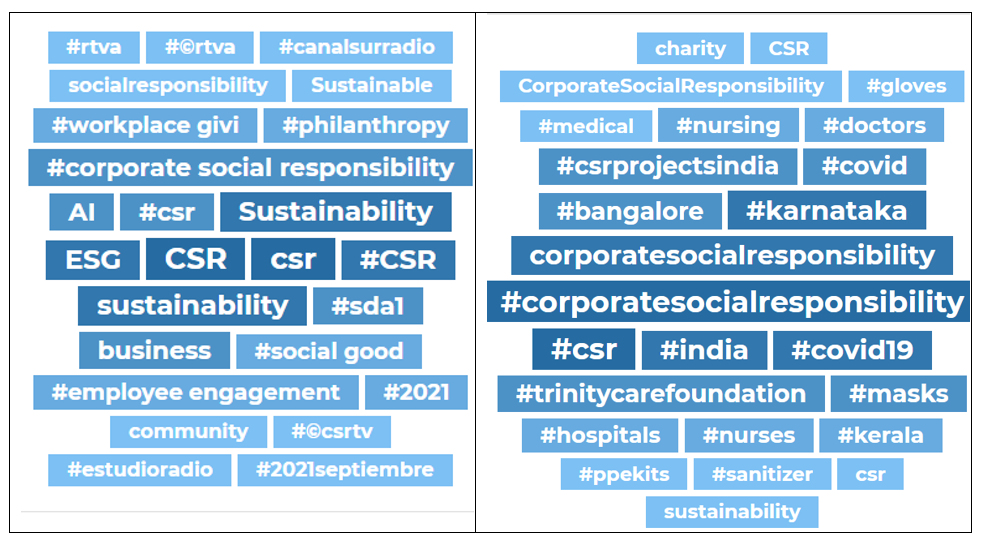 Word clouds are confusingly different. When #CSR discussions focus on business and workplace, #corporatesocialresponsibility discussions strongly indicate Covid -19 related themes.
This study is not enough to give us significant results. Only discussions in English were analysed and in a short timeframe. Moreover, channels like LinkedIn were not included in this study. We also must keep in mind that organisations discuss their responsible actions also without using the hashtag #CSR and #corporatesocialresponsibility. However, strategic use of hashtags is part of communication in social media. Hashtags are used to reach the target audience and encourage stakeholders in thematic discussions.  These indicative results give us many reasons to focus on communication strategies in the future.
What can we learn from these results?
Firstly, each social media platform is different, and what works on Instagram may not work on Twitter and vice versa. Secondly, the main issue in social media is that it works best for communication that is social in nature and manifests itself in interaction and dialogue. According to the results, communication on corporate social responsibility is mostly monologue style in a neutral tone and this will not engage stakeholders in dialogue. Finally, the good news is that there is a lot of space for strategic communication leading to openness in CSR activities and building a good reputation of organizations.  In addition, if it is in your interest, there is a good opportunity to profile yourself as an expert on CSR. You only need to know where your stakeholders are in social media and especially, what do they value.
Key takeaways!
choose appropriate channels
engage your audience in emotionally tagged dialogue. Both positive and negatively labelled discussions may lead to positive results.
use photos and videos
use both hashtags #CSR and #corporatesocialresponsibility, so people can find you. Add more relevant hashtags into your post to inform the theme you are discussing about.
be in active dialogue and listen to your audience! Especially on Tuesdays, Wednesdays, and Sundays.
To be able to emphasize active stakeholder engagement and hear the bad and good bell will finally lead to an increase of trust in company CSR activities.
Written by Mervi Varhelahti, Rauni Jaskari and Susanna Saari, Turku University of Applied Sciences
References
Bialkova, S. & Te Paske, S. (2020). Campaign participation, spreading electronic word of mouth, purchase: how to optimise corporate social responsibility, CSR, effectiveness via social media? European Journal of Management and Business Economics, 30(1).
@Biryanibykilo (2021) in Instagram. Accessed 20.9.2021 at https://www.instagram.com/p/CTyjPm8PgsW/
Gómez, L. M. (2017). Social media concepts for effective CSR online communication. In Communicating Corporate Social Responsibility in the Digital Era (pp. 193-215). Routledge.
Jalonen, H. (2017). "A good bell is heard from far, a bad one still further": A socio-demography of disclosing negative emotions in social media. The Journal of Social Media in Society, 6(1).
Kvasničková Stanislavská, L., Pilař, L., Margarisová, K. & Kvasnička, R. (2020). Corporate Social Responsibility and social media: Comparison between developing and developed countries. Sustainability, 12(13).
Keywords: social media, CSR, corporate social responsibility, dialogue, emotions
https://too4to.eu/wp-content/uploads/2022/09/logo2022-300x138.png
0
0
Too4to
https://too4to.eu/wp-content/uploads/2022/09/logo2022-300x138.png
Too4to
2021-11-17 11:30:08
2021-11-17 11:30:08
Insights in #CorporateSocialResponsibility and #CSR in Social Media